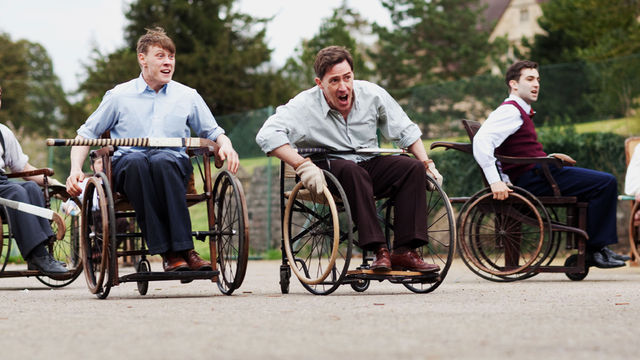 © BBC
Eddie Marsan (Happy Go Lucky, Tyrannosaur, War Horse) e Rob Brydon (Gavin & Stacey, The Trip) sono stati scelti dalla BBC Two per il nuovo film di 90 minuti "
Best Of Men
" scritto da Lucy Gannon (The Children, Soldier Soldier, Bramwell)
Best Of Men
è la storia straordinaria ed esaltante della nascita dei Paralympic Games e del creatore il dottor Ludwig Guttmann.
Nel 1944, Guttmann, neurologo di talento, arrivato all'ospedale di Stoke Mandeville trasforma la vita dei suoi pazienti e del personale. Rifiutando l'opinione generale che la paralisi è una condizione terminale, Guttmann porta una nuova filosofia per tutti i suoi pazienti usando lo sport per aiutare a ricostruire la forza fisica, nonché il rispetto di sé stessi.
Eddie Marsan interpreta il dottor Guttmann, Rob Brydon (Gavin and Stacey, The Trip) interpreta il sergente Wynn Bowen, un soldato gallese la cui vita viene cambiata per sempre dopo che paralizzato viene ricoverato nell'ospedale di Stoke Mandeville sotto la cura del dottor Guttmann.
Nel cast anche George MacKay (Defiance, Birdsong) who plays William Gardiner; Niamh Cusack (In Love With Alma Cogan, Heartbeat) as Nurse Edwards; Nigel Lindsay (Four Lions, Shrek the Musical) as Mr Gardiner; Ben Owen-Jones (Dalziel & Pascoe) as Neil; David Proud (EastEnders) as Jeremy and Richard McCabe (Wallander, The Duchess) as Dr Cowan.
(http://www.bbc.co.uk/mediacentre/latestnews/2012/best-of-men.html)
Sir Ludwig Guttmann (Toszek, 3 luglio 1899 – 18 marzo 1980) è stato un neurologo e dirigente sportivo tedesco naturalizzato britannico, celebre per aver promosso le attività fisiche dei disabili ed averne organizzato il movimento sportivo, di cui è considerato il padre fondatore.
Nell'ambito delle sue funzioni decise di promuovere fin dall'inizio lo sport come metodo principale di terapia, utilizzandolo per plasmare e/o riplasmare i suoi pazienti con un fisico forte ed il rispetto di sé [1]. Dal 1952, organizzò i cosiddetti Giochi di Stoke Mandeville per disabili, cresciuti nel tempo fino ad avere oltre 130 partecipanti stranieri, cosa che impressionò l'opinione pubblica internazionale e i dirigenti del movimento olimpico.
Nel 1956 Guttmann fu onorato con la Coppa Fearnley, riconoscimento creato per premiare chi si si distingue nel contribuire all'espansione degli ideali olimpici. In seguito a questi successi decise, su proposta ed assieme all'italiano Antonio Maglio, di portare i giochi a Roma nel 1960, poi riconosciuto come I giochi paralimpici, manifestazione che continua tutt'oggi con crescente successo. Nel Regno Unito fondò altresì l'Associazione Britannica Sport Disabili (1960) e ricevette i gradi di ufficiale e poi di comandante dell'Ordine dell'Impero Britannico.
(http://it.wikipedia.org/wiki/Ludwig_Guttmann)

BBC HD, 9:00PM Thu, 16 Aug 2012
Sub Ita
Sub Eng