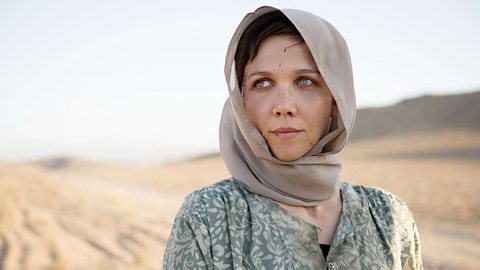 ©BBC
BBC
:
Gyllenhaal interpreta Nessa Stein nel nuovo thriller The Honourable Woman ambientato in uno scenario politico internazionale di spionaggio.

La serie (sette episodi ) , scritta e diretta da Hugo Blick (The Shadow Line) è stata girata nell'estate del 2013 in Medio Oriente e in America.
La storia racconta la vita di Stein (Gyllenhaal), figlia di un trafficante d'armi che ha assistito all'assassinio di suo padre da bambina. Adulta, eredita una fortuna e la sua attività, decidendo dei cambiamenti che non compiacciono suo fratello Ephra (Andrew Buchan, in Broadchurch, Garrow's Law), sposato con Rachel (Katherine Parkinson).
Nel cast:
Katherine Parkinson (The IT Crowd), Stephen Rea (The Shadow Line), Janet McTeer (The White Queen), Lindsay Duncan (The Hollow Crown, Roma), Lubna Azbal, Tobias Menzies (Game Of Thrones), Genevieve O'Reilly (Episodes), Igal Naor (House Of Saddam), Eve Best (Nurse Jackie), Martin Hutson, Nicholas Woodeson, Raad Rawi, Richard Katz, Philip Arditti, John Mackay, Rupert Frazer, Uriel Emil, Paul Herzberg, George Georgiou, Julia Montgomery-Brown, Martin Mcdougall, Aiden Stephenson, Tom Bateman, Amira Ghazalla, Hugh Ross e Stephen Boxer.
The Honourable Woman andrà in onda su BBC Two il 3 lug.