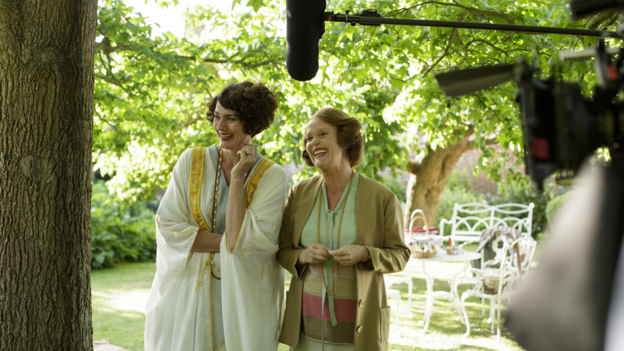 ©BBC
BBC:
Mapp e Lucia (tre episodi per la prima stagione) è un nuovo adattamento della BBC del lavoro di Edward Frederic Benson. La prima versione è datata 1980. Scritta da Steve Pemberton (Inside Nº9, Psichoville, Whitechapell).
Ambientata nel 1930 nella città di Tilling, la storia inizia quando Emmeline Lucas (Anna Chancellor in The Hour), meglio conosciuta come Lucy, arriva in città per trascorrere le vacanze estive. Incontra Elizabeth Mapp (Miranda Richardson, di Parade's End e Blackadder), una donna che ha guidato e controllato la vita sociale della città. Presto diventano due rivali quando Lucia, determinata a diventare la 'regina' della società locale, decide di sabotare la 'carriera' di Mapp.

Nel cast ci sono Mark Gatiss (Sherlock, The Crimson Petal And The White), Felicity Montagu (I'm Alan Partridge), Gemma Whelan (Game Of Thrones), Paul Ritter (Friday Night Dinner, Vera, The Game), Katy Brand, Poppy Miller, Nick Woodeson (The Honourable Woman), Pippa Haywood (Prisoner's Wives, Mr. Selfridge) e Frances Barber (Silk).
E' prevista l'andata in onda nel 2015.