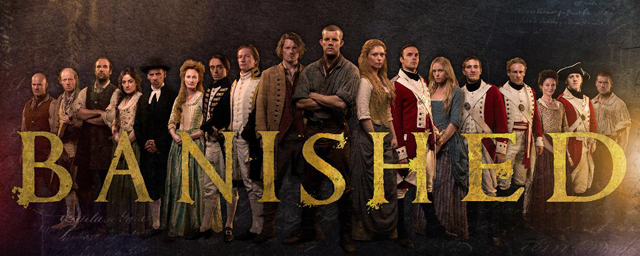 ©BBC
BBC
:
E'previsto per il 5 marzo il debutto di "
Banished
", (BBC2) miniserie annunciate nell'aprile 2013.
Scritto da Jimmy McGovern e Shaun Duggan, la storia si trova si svolge intorno al 1787, un periodo in cui la Gran Bretagna ha deciso di istituire una colonia penale in Australia , dove vengono inviati i ladri , banditi, prostitute, ed orfani.
Sorvegliati da soldati, ufficiali, un vicario e un medico, i sopravvissuti superano la fame, la siccità, tentatando di fuggire e trasformando il luogo in una colonia fiorente, ora conosciuta come Sydney, la città più popolata dell' Australia.
La storia è raccontata dal punto di vista di tre detenuti, James Freeman (Russell Tovey, Him & Her e Looking), Tommy Barrett (Julian Rhind-Tutt, e The Hour) e Elizabeth Quinn (Myanna Buring, Ripper Street).
La miniserie inizia con l'arrivo della flotta di undici navi guidate dal capitano Arthur Phillip (David Wenham, Top Of The Lake), che diventa il governatore della colonia. Pragmatico e idealista, ha il sogno di trasformare la colonia penale in una terra di opportunità per tutti. Ma affronta il Maggiore Ross (Joseph Millson), un uomo con il pugno di ferro.
Nel cast ci sono anche Ewen Bremner (Accused), Genevieve O'Reilly (The Honourable Woman), Brooke Harman, Orla Brady (Strike Back), Joanna Vanderham (The Paradise), Rory McCann (Game Of Thrones), Adam Nagaitis (Inbetweeners 2), Cal MacAninch (Mr Selfridge), Ryan Corr, David Dawson (Peaky Blinders), Nick Moss (The Mill), David Walmsley (The Smoke) e Ned Dennehy.
http://tearoom2012.blogspot.it/2014/03/new-banished.html